Last updated 22/5 17:30
Astra Airlines (AZI) will soon take delivery of a second BAe 146-300. It will be an ex Air Dolomiti plane, currently registered I-ADJF (c/n 3193). It is parked in EXT (Exeter, UK) and will be ferried to SEN (Southend, UK) today for painting in Astra colors. It is expected to arrive in Greece sometime next week.
Update 23:30
It's future registration might be SX-DIX and it's unsure if it will be painted to full Astra colors as the company needs it as soon as possible. If that's the case it is expected to have basic Air Dolomiti colors (without titles) and the Greek registration.
Update 20/5 11:30
It's confirmed that it's registration will be SX-DIX and it is in basic Air Dolomiti colors. It is scheduled to arrive to SKG (Thessaloniki, Greece) today at around 23:30L.
Update 22/5 17:20
The passenger cabin has a 3-3 configuration and a total of 99 seats with impressive seat pitch. Also added three photos of SX-DIX.
Update 5/6 17:30
Added a photo of the plane's first appearance in ATH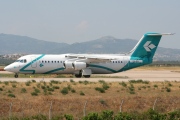 BAe 146 / SX-DIX / the second plane of Astra Airlines operating for Olympic Airlines
Thanks to Paddy Ballard for the following photo.
BAe 146 / SX-DIX / Just towed out of the Inflite hangar in Southend Airport on 20 May 2009
Thanks to Astra Airlines for the following two photos.
BAe 146 / SX-DIX / the -all economy- passenger cabin with 99 seats
BAe 146 / SX-DIX / dark green leather seat with impressive legroom