Two special visitors arrived in ATH yesterday evening on charter flights. The first one was a JAL - Japan Airlines Boeing 747 registered JA8086 that arrived from NRT (Narita, Japan), the first ever JAL airplane to land in ATH. The second was a White Airways Airbus A310 registered as CS-TKI arriving from LIS (Lisbon, Portugal).
Thanks to Vasilis for the video.

Boeing 747 / JA8086 / first time in ATH, landing on rwy 03L
Airbus A310 / CS-TKI / about to depart from runway 03L
Thanks to Alex for the photos.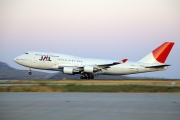 Boeing 747 / JA8086 / departing from rwy 03R to NGO (Nagoya, Japan)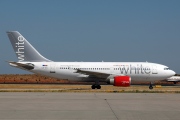 Airbus A310 / CS-TKI / taxiing in ATH after arrival on a charter flight from LIS