Last updated 26/9/2009 19:00
As was previously written (
see post
), taxiway "B" (Bravo) of Athens airport has been closed in order to be used as temporary long term parking of planes. The list below will be updated as soon there is a change on the parking status of a plane on taxiway "B". Upon each update, a note will be entered below the list to outline the changes happened.
B747SRF SX-DCB Elite Airlines
B737 SX-BKN Untitled (ex Olympic Airlines, due for NasAir as E3-NAZ)
F50 PH-KVE Untitled (Hellas Aviation)
F50 SX-BRV Untitled (Hellas Aviation)
F50 5B-DCB Untitled (Hellas Aviation)
A319 SX-OAF Olympic Air
A319 SX-OAG Olympic Air
A320 SX-OAH Olympic Air
A319 SX-OAO Olympic Air
A320 SX-OAR Olympic Air
Update 15/9/2009
B737 / VP-BYA Private, was parked on "B" the previous days.
Update 18/9/2009
MD82 of Viking was reregistered to SX-SMS and had Viking Hellas applied to it. Also B737 of Olympic Air that was due for NasAir in Eritrea had the previous registration applied on a sticker above the E3-NAZ. B737 SX-BGH of Aegean Airlines departed Athens on course to USA for storage. ATR42 SX-BPA of Pantheon Airways was moved to the Olympic Air hangar. Hawker HS-125 SX-FAR was moved on taxiway "B". Also the two Airbus A320s of Olympic Air that arrived today were parked there (SX-OAQ & SX-OAR)
Update 25/9/2009
Boeing 752 of Sky Wings was reregistered to SX-BTH and performed a test flight, after which it was parked on A47 and not on taxiway "B". The MD82 registered SX-SMS of Viking Hellas was positioned from ATH to HER on 23/9/2009. The B737 registered SX-BKI of Olympic Airlines departed on 20/9/2009 on return to lessor. The same happened with the B737 registered SX-BGR of Aegean Airlines which departed on 19/9/2009. Airbus A320 registered SX-OAQ of Olympic Air was towed to Olympic Air hangar. Several Airbus A319s and A320s were parked there upon arrival in Athens.
Update 26/9/2009
Two new NOTAMS have been issued today which read as follows:
1) TWY B BTN TAXILINK A8 TO TAXILINK A13 CLOSED. 28 SEP 09:00 2009 UNTIL 30 SEP 09:00 2009. CREATED: 26 SEP 12:21 2009
2) TWY Z CLOSED. 28 SEP 09:00 2009 UNTIL 30 NOV 09:00 2009. CREATED: 26 SEP 12:21 2009
Which means that taxiway "B" will be closed on its full length and taxiway "Z" will also be closed. As suspected on the initial post (
see post
), the old Olympic Airlines planes will be parked on taxiways "B" and "Z" of Athens upon completing their last flight. Most of the planes will perform their last flights on Monday, September 28th 2009 since from Tuesday 29/9/2009 Olympic Air is taking over and will be using their Airbus planes. Olympic Airlines Boeing 737s are expected to be parked like they are parked now (SX-BKN, SX-BLD etc). The ATRs will be probably be parked next to the Fokker 50s in the same way. The Airbus A340s would either be parked on the northern part of "B" that is closed with the new NOTAM or on taxiway "Z" (most probable since there is more space).
Taxiway "B" of ATH with 11 parked planes (photo 14/9/2009)
Boeing 737 / SX-BKI / ex Olympic Airlines parked on "B" (photo 14/9/2009)
Boeing 737 / E3-NAZ / ex Olympic Airlines SX-BKN, registered and waiting delivery to Eritrea for NasAir (photo 14/9/2009)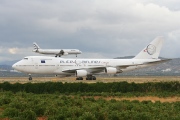 Boeing 747SRF / SX-DCB / second in row on "B", behind the 757 of Skywings (photo 8/9/2009)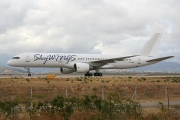 Boeing 757-200 / N410JR / first parked plane on "B" (photo 8/9/2009)