At around 19:00L (7/3/2009) Condor flight 6334 (calling as CFG 334) from Frankfurt to Dubai had to divert to Athens airport due to a weather radar problem. The plane did a holding over KEA VOR in order to burn some fuel before landing in Athens. 263 passengers and 8 crew members were on board. The aircraft involved is Boeing 757-300 registered
D-ABOJ.
Another aircraft was ferried to Athens to take the passengers and continue to Dubai. This (ferry) flight was DE 902 (Boeing 757-300 registered D-ABOE). The flight with the passengers departed Athens at 01:00L (8/3/2009) as DE 6334 heading to Dubai. The plane with the emergency (D-ABOJ)
left Athens as DE 903 at 03:45L (8/3/2009) heading back to FRA.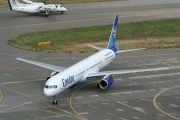 Boeing 757-300 / D-ABOJ / the same plane on a previous emergency in Athens when hit by a lighting (19/5/2007)