Hellas Jet has taken delivery of a new Airbus A320 (c/n 88) registered N9070N. The plane will follow this route to Athens airport:
RME (
Griffiss, NY
) STD 20/3/2009 16:10Z
BGR (
Bangor,
ME) STA 20/3/2009 17:08Z, STD 20/3/2009 19:25Z
SNN (Shannon, Ireland) STA 21/3/2009 00:34Z, STD 21/3/2009 unk time
ATH STA 21/3/2009 06:00Z
It is reported that the plane is already in full Hellas Jet colors. Upon arrival it will be reregistered to SX-BVK. It's name is "Orion" and was leased from AeroTurbine (an AerCap subsidiary).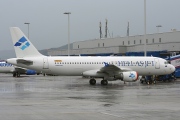 Airbus A320 / N9070N / Hellas Jet latest A320 arrived in Athens (still with the N registration, in full colors)