Surprisingly Emirates used an Airbus A340-300 on the today's EK 105/106 flights instead of the usual Boeing 777-300ER. It's one of the very few times that an Emirates A343 is coming to Athens. Fortunatelly, according to the Emirates website schedule, it is going to come again on 2/4, 4&5/4 and 8-12/4 on the EK 105/106 flights.
The full equipment schedule for EK 105/106 of April is as follow:
We 1/4 B772
Th 2/4 A343
Fr 3/4 A332
Sa 4/4 A343
Su 5/4 A343
Mo 6/4 B773ER
Tu 7/4 B773ER
We 8/4 A343
Th 9/4 A343
Fr 10/4 A343
Sa 11/4 A343
Su 12/4 A343
Mo 13/4 B773ER
Tu 14/4 B772
We 15/4 B773ER
Th 16/4 B773ER
Fr 17/4 B773ER
Sa 18/4 B773ER
Su 19/4 B772
Mo 20/4 until the end of April B773ER
The second daily flight to DXB (Dubai, United Arab Emirates), EK 103/104, is scheduled to be operated always with an Airbus A330-200.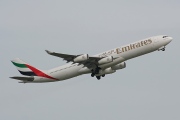 Airbus A340-300 / A6-ERP / the rarely used A343 departing from Athens airport